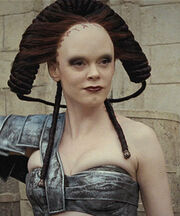 Marique
was the daughter of Khalar Zym, enemy of
Conan
, and also a very evil and powerful witch.
At the young age of seventeen, Marique's mother was arrested and persecuted for practicing dark magic. Since then, both Marique and her father have been determined to resurrect the woman, and to restore their unity as a family. However, after countless battles between Conan and Marique, the young witch finally met her end by the defeat of the barbarian.
Ad blocker interference detected!
Wikia is a free-to-use site that makes money from advertising. We have a modified experience for viewers using ad blockers

Wikia is not accessible if you've made further modifications. Remove the custom ad blocker rule(s) and the page will load as expected.