Jezmine
is a female character from the animated TV series
Conan the Adventurer
. She's an agile and beautiful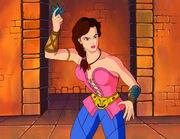 circus performer who possesses a set of Star Metal throwing stars. She started as a thief, but became an honest woman for the rest of the series and also acted as Conan's sergeant of the team (but is in love with Conan nonetheless). Her parents are later revealed to be a nobles in the city of Tarantia.
To her horror, she learns that her mother serves Wrath-Amon and her father is the serpent man Astivus, making her a half-breed. From that moment, she is terrified her Serpent-Man heritage will assert itself. When her father Astivus, who loved Jezmine's mother, sides with Jezmine and her mother against Wrath-Amon, Wrath-Amon banishes her father and mother to the Abyss. A magical potion applied to her Star Metal shuriken allow Jezmine to magically summon the throwing stars to return to her. She shared this potion with Zula.
Jezmine hated Astivus, despite his love for her. She and Conan were able to free her mother during a trip to the Abyss, and later Astivus escaped when Set and the Serpent-Men banished over the years were freed from the Abyss by Wrath-Amon. Once again, Astivus chose Jezmine and her mother over serving Set, and it is implied in the final episode that Jezmine might be willing to reconcile with him. Unlike Valeria, Wrath-Amon doesn't kill her.
Ad blocker interference detected!
Wikia is a free-to-use site that makes money from advertising. We have a modified experience for viewers using ad blockers

Wikia is not accessible if you've made further modifications. Remove the custom ad blocker rule(s) and the page will load as expected.