Ad blocker interference detected!
Wikia is a free-to-use site that makes money from advertising. We have a modified experience for viewers using ad blockers

Wikia is not accessible if you've made further modifications. Remove the custom ad blocker rule(s) and the page will load as expected.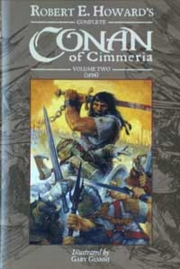 Conan of Cimmeria: Volume Two (1934) is a collection of Robert E. Howard's Conan stories, published by Wandering Star, and by Del Rey as The Bloody Crown of Conan.
Contents
Edit
Miscellanea
Untitled Synopsis (The People of the Black Circle)
Untitled Synopsis: "Amalric, a son of a nobleman of the great house of Valerus, ..." ["Drums of Tombalku"]
Untitled Draft: "Three men squatted beside the water hole, beneath the sunset sky..." ["Drums of Tombalku"]
Untitled Synopsis (The Hour of the Dragon)
Notes on The Hour of the Dragon
Untitled Synopsis ("A Witch Shall Be Born")
Apendices
"Hyborian Genesis Part II" Notes on the Creation of the Conan Stories by Patrice Louinet
Notes on the Conan Typescripts and the Chronology by Patrice Louinet
Notes on the Original Howard Texts
Publication details
Edit
References
Edit