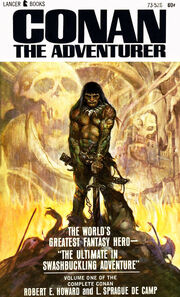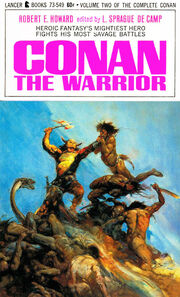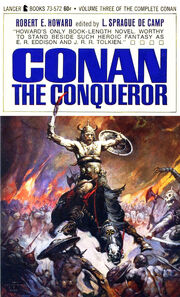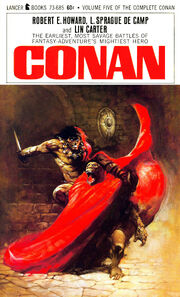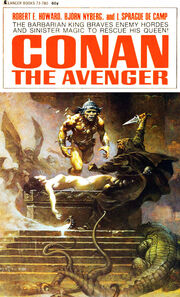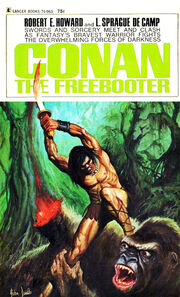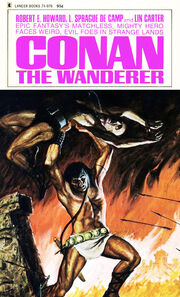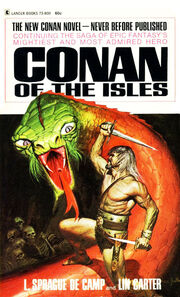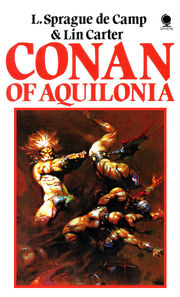 Lancer / Ace ediciones de bolsillo, 1966-1977
Edit
La primera edición completa de bolsillo, que compiló las historias de Howard , junto con nuevas historias de Howard no en orden cronológico, para formar un relato completo de la vida de Conan. Libros Lancer salió antes de llevar a cabo toda la serie, cuya publicación fue completado por Ace Books. Esta versión de las historias fue la que presentó a Conan en la cultura popular. Sus portadas mostraba imágenes dinámicas por Frank Frazetta que, para muchos aficionados, presentó la "definitiva" la impresión de Conan y su mundo. Para las próximas décadas, la mayoría de las otras representaciones del cimmerio y sus imitadores fueron fuertemente influenciadas.
Realizado bajo la dirección de De Camp y Carter, esta edición incluye todos los materiales originales de Howard, entre ellos, que dejó inédito en su vida y los fragmentos y los contornos. De Camp y Carter editando gran parte del material y completó las historias que no estaban acabadas. Nuevas historias escritas en su totalidad por ellos mismos fueron agregados también. En la siguiente lista, los volúmenes 6 y 11-12 no contiene ningún material por Howard. De las treinta y cinco historias de los otros ocho volúmenes, diecinueve fueron publicados o completado por Howard durante su vida, se vuelven a escribir diez o completado de sus manuscritos, fragmentos o sinopsis, y seis son obra exclusiva de De Camp y Carter.
Mientras que la edición Lancer ha sido criticada desde una perspectiva académica por no presentar una versión pura de los cuentos de Howard. Las famosas y sorprendentes ilustraciones del maestro Frazetta para las ediciones de Lancer (1966-1971) Totalmente restauradas.-------------------------- The first complete edition of his pocket, who compiled the stories of Howard, along with new stories by Howard not in chronological order to form a complete account of the life of Conan. Lancer Books went before carrying out the whole series, whose publication was completed by Ace Books. This version of the stories was the one that introduced Conan in popular culture. Showed their covers by Frank Frazetta dynamic images that, for many fans, presented the "definitive" impression of Conan and his world. For decades, most of the other representations of the Cimmerian and his imitators were strongly influenced.
Made under the direction of de Camp and Carter, this edition includes all original material by Howard, including that left unpublished in his life and the fragments and contours. Carter Camp and editing much of the material and completed the stories were not finished. New stories written entirely by themselves were added as well. In the following list, volumes 6 and 11-12 does not contain any material by Howard. Of the thirty-five stories of the other eight volumes, nineteen were published or completed by Howard during his lifetime, are rewritten completed ten manuscripts, fragments or synopses, and six are the exclusive work of de Camp and Carter.
While the Lancer edition has been criticized from an academic perspective for not presenting a pure version of Howard's stories. The famous and amazing teacher Frazetta illustrations for editions of Lancer (1966-1971) Fully restored.------------------------------------------------------------------------------------------ La première édition complète de sa poche, qui a compilé les histoires de Howard, avec de nouvelles histoires de Howard n'est pas dans l'ordre chronologique pour former un compte rendu complet de la vie de Conan. Livres Lancer allé avant d'effectuer toute la série, dont la publication a été réalisée par Ace Books. Cette version des histoires est celle qui introduit Conan dans la culture populaire. Ont montré leurs jaquettes en images Frazetta Frank dynamiques qui, pour de nombreux fans, a présenté les "définitif" impression de Conan et son univers. Pendant des décennies, la plupart des autres représentations de la Cimmérien et de ses imitateurs ont été fortement influencés.
Fabriqué sous la direction de Camp et Carter de, cette édition comprend tous les documents originaux par Howard, y compris celle non publiée gauche dans sa vie et les fragments et les contours. Camp Carter et l'édition une grande partie de la matière et a complété les histoires n'ont pas été terminé. Nouvelles histoires écrites entièrement par eux-mêmes ont été ajoutées ainsi. Dans la liste ci-dessous, les volumes 6 et 11-12 ne contient aucun matériau par Howard. Parmi les histoires de trente-cinq des huit autres volumes, dix-neuf ont été publiés ou complétée par Howard au cours de sa durée de vie, sont réécrites complété dix manuscrits, des fragments ou des synopsis, et six sont l'œuvre exclusive de Camp et Carter de.
Alors que l'édition Lancer a été critiqué à partir d'un point de vue académique pour ne pas présenter une version pure de récits de Howard. Les célèbres illustrations et étonnant Frazetta enseignants pour les éditions de Lancer (1966-1971) entièrement restaurée.--------------------------------------------- 科南生活,形成一个完整的帐户霍华德没有在按时间顺序排列的新故事,谁编的故事,霍华德在他的口袋里的第一个完整版。蓝瑟的书籍前开展的全系列,其出版物是由Ace书籍完成了。这个版本的故事是一个流行文化中的柯南。封面显示,由弗兰克弗雷斯塔托比动态影像,对于很多球迷,提出了"明确的"科南和他的世界的印象。几十年来,大多数的基梅里和他的模仿者的其他陈述了强烈的影响。
德营和卡特的指导下,这个版本包括原包括,左在他的生活片段和轮廓的未发表的材料,全部由霍华德。卡特营和编辑的材料,完成未完成的故事。完全由自己编写的新故事,以及增加了。下面的列表中,6和11-12卷不包含任何材料由霍华德。其他八卷第三个故事中,有19名被公布或完成霍华德在他的一生,被改写完成十个手稿,碎片或概要,六是德营和卡特的独家工作。
虽然蓝瑟版已经从学术的角度批评霍华德的故事呈现出纯净版。著名的和惊人的教师弗雷斯塔托比蓝瑟的版本插图(1966-1971)完全恢复。
Ad blocker interference detected!
Wikia is a free-to-use site that makes money from advertising. We have a modified experience for viewers using ad blockers

Wikia is not accessible if you've made further modifications. Remove the custom ad blocker rule(s) and the page will load as expected.