Conan: The Adventurer (Live Action Television Series)
Talk

0
Share
Ad blocker interference detected!
Wikia is a free-to-use site that makes money from advertising. We have a modified experience for viewers using ad blockers

Wikia is not accessible if you've made further modifications. Remove the custom ad blocker rule(s) and the page will load as expected.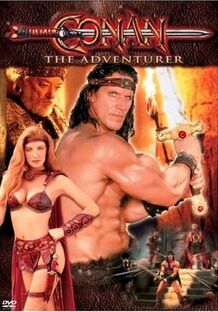 Conan: The Adventurer was a live action television series which ran for 22 episodes over the period of september 1997 to may of 1998. It stared Ralf Moeller as Conan
Episodes
Edit
1. "The Heart of the Elephant"
2. "The Heart of the Elephant, Part 2"
3. "Lair of the Beastmen"
4. "Heir Apparent"
5. "The Siege of Ahl Sohn-Bar"
6. "A Friend in Need"
7. "The Ruby Fruit Forest"
8. "The Three Virgins"
9. "The Labyrinth"
10. "Ransom"
11. "Amazon Woman"
12. "Shadows of Death"
13. "Homecoming"
14. "Impostor"
15. "The Curse of Afka"
16. "The Taming"
17. "The Crystal Arrow"
18. "The Child"
19. "Red Sonja"
20. "The Cavern"
21. "Antidote"
22. "Lethal Wizards"
DVD Release
Edit
On September 21, 2004, Image Entertainment released Conan the Adventurer: Complete series on DVD in Region 1 for the very first time