====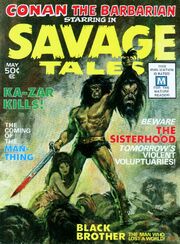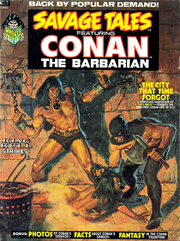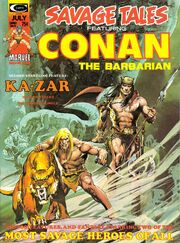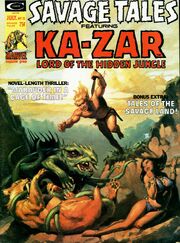 ==== -SAVAGE TALES
Published in English (United States) Date of publication: May 1971 - July 1975 Issues published: 11 (# 1 - # 11) Format: black and white. The first of two volumes of short stories Savage ran 11 issues, with a break of almost two and half years after the first issue (May 1971, then in October 1973 - July 1975) The series had painted covers by comic artists as John Buscema, Pablo Marcos and John Romita, Neal Adams, Boris Vallejo, and Michael Kaluta. An annual, composed entirely of reprints, mostly colored Ka-Zar comics, cover by KenBarr. SAVAGE TALES
Publicado en Inglés (Estados Unidos) Fechas de publicación: Mayo 1971- Julio 1975 Números publicados : 11 (# 1 - # 11) Formato: Blanco y negro. El primero de los dos volúmenes de cuentos Savage corrió 11 números, con un paréntesis de casi dos años y medio después de que el primer número: (mayo de 1971, a continuación, octubre 1973- Julio 1975 ) La serie contó con cubiertas pintadas por artistas cómicos como John Buscema, Pablo Marcos y John Romita, Neal Adams , Boris Vallejo, y Michael Kaluta. Un anual , compuesto enteramente de las reimpresiones, sobre todo de color de cómics Ka-Zar , cubierta de Ken Barr.
Ad blocker interference detected!
Wikia is a free-to-use site that makes money from advertising. We have a modified experience for viewers using ad blockers

Wikia is not accessible if you've made further modifications. Remove the custom ad blocker rule(s) and the page will load as expected.